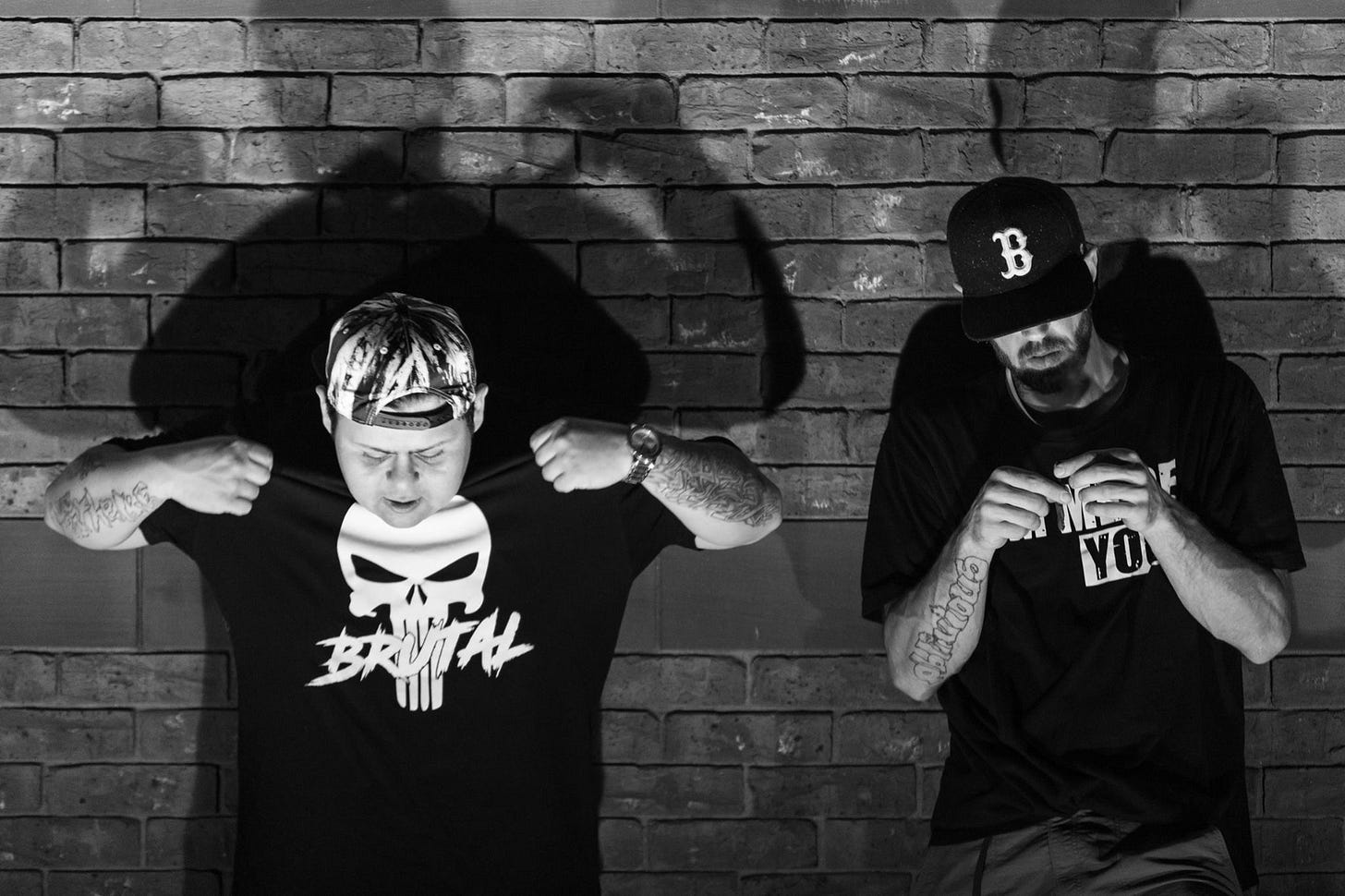 The new W.O.K.E. video release, a dose of hardcore reality, is rappers, Lateb and Oblivious. Their video released to facebook and youtube was shot and edited by Rose Glen, the track is a remix of the Eminem song, "The Ringer".
The duo absolutely destroy, touching on subjects ranging from creeping A.I. and fascism, in addition to the traps of prison and student debt. They also take on the studio gangsterism that pervades much of today's commercial music. It's hard but it's not fronting hard. This is as real as it gets and not dumbed down for mass consumption.
What follows is a question and answer with Oblivious and Lateb.
"W.O.K.E." I just watched the video and loved it, tell us about this new project.
"Woke is a collaborative effort from Lateb and myself supported musically by super producer Jon Glass. Over the past few years we have recorded numerous songs and we've finally been able to narrow it down to the ones we believe best represent not only ourselves but the message were trying to portray.
To me this project represents a testament to our growth not only as individuals but as artists.
were both extremely proud of the effort and look very much forward to sharing it with the world this coming spring.", Oblivious.
You have a tour booked?
"Yes. we leave for Europe Jan 29th for just under 5 weeks with numerous events spanning multiple countries including Switzerland, Hungary, The Czech Rep, Denmark, The Netherlands and the UK." Oblivious.
I've known you through your music and activism for decades now? What would today's Oblivious being telling the younger version of yourself?
"You have ALOT to learn, never stop! oh and it's ok to love yourself."
You touch on a lot of topics in this first drop, where do you find inspiration for the lyrics?
"I guess just life in general ya know.. trying to be as conscious and observant as possible, also being fortunate enough to have an extremely diverse group of people around me to constantly push me to grow and do my best to understand as well as document the world around me as I see it ..and nowadays it's not all puppies and rainbows so to speak", Oblivious.
"Oblivious really makes me step up my game substance wise. He has a vast wealth of knowledge and we are both very opinionated, but at the same time, not naive. Observation is key, and my lyrics on a project like this are inspired by things I personally have experienced for the most part because when you experience something personally it breeds passion and emotion and makes you feel more strongly about certain issues. I am a victim of Sallie Mae to this day, I have been targeted by police and felt unsafe many times as have many people in my life. I have been in the prison system and seen the ugliness and the mind state of people who can't get out of their own minds vicious cycle. Not everyone will agree with our views, but as long as we make people question things that maybe trigger new thoughts and ideas then the goal is accomplished.", Lateb.
I recall seeing you Oblivious at Occupy Boston in 2011. Looking back what's your feeling about that movement today?
"Occupy.. I mean though I was young and full of leftover teenage angst, I guess I still believe in what myself and many others set out to accomplish. successful or not it taught me alot about myself." Oblivious.
You mention Kapernick on this release,, do you want to elaborate anymore than your lyrics on why you wear his jersey?
"It's a symbol. along with the act that it in itself represents. The demonization of a man standing (or kneeling) in the face of injustice. the reflection of all that is still so wrong in our country and around the world. I guess its my wordless letter of solidarity to the plight of the indigenous and melanated peoples not only of our country but worldwide." Oblivious.
Any advice for struggling creatives today?
"Greatness is attained through hard work and dedication. Study those that came before you and mastered their crafts. most of all never compromise your integrity for anybody or anything. Be yourself!", Oblivious.
"There is no substitute for hard work. You can enjoy something and not be passionate about it and that's OK. Your passion can be your hobby too and maybe you luck out and blow up, but we know 99.9% of the time that doesn't happen. My advice first and foremost is to look within yourself and ask yourself if you have enough passion to go through the struggle to sacrifice much more than even an above average person, to fight for it. Musically my advice is to force nothing. If you don't feel it don't do it, but mostly KEEP LEARNING, reading, researching trying new things and don't burn bridges, because you never know when things will come full circle.", Lateb.
This first video drop seems like you are planting your flag and it's a heck of lot different than the rest of the bs that is out there today?
"The song is actually a remix of a recently released Eminem song called "the ringer" ..we just decided to put our own twist on it ..were not here to play by the rules and follow trends. were here for substance.", Oblivious.
"Flag planted. It was a lot of fun taking an atypical beat from what we are used to and engaging it with actual issues, but also keeping it appealing musically to the generations coming up. I appreciate the sounds of the new "bs" as you put it and it's fun to let loose sometimes with it, but, it really has dumbed down the culture of Hip Hop to an unimaginable level from when we came up listening to it in the 90's. All the same they do what they do and we do what we do. Music has no rules and I think that's a beautiful thing.", Lateb.
Where do you see yourself over the next decade? Longer term goals?
"Wiser.", Oblivious.
"Established.
Living of my passion with the ability to help people other than myself. Being Peruvian I would like to help the underdeveloped countries in some sort of way in the Central and South American countries eventually. I've seen the good non profits like Worthy Village based in Guatemala have done, but maybe that'll be my swan song. Musically I mean a Grammy would be nice, but it's not the ultimate goal.", Lateb.
In 2006, Nas said hip hop is dead, what's your hope for the future of hip hop?
"Aint shit changed but the date. there has and always will be different styles and approaches.
There will be the innovators there'll be the imitators. the good the bad and the ugly and I guess we're just gonna have to learn to appreciate both because honestly it's hard to think one could exist without the other.", Oblivious.
"In a sense I think he was right. The ideology of how Hip Hop was supposed to sound died, but in death there is also rebirth. People with less "talent" became popularized and simplicity was more glorified, but with it came the introduction of melodies into the genre which was previously deemed "Not Hip Hop". I'm a fan of music so while I too disliked a lot of music during that cultural shift I took from it some good things that we now even on this "W.O.K.E." project have incorporated. Hip Hop will always exist. It may shape shift at times and give birth to things we don't like, but there will always be those exceptional talents that are unquestionably great in any era.", Lateb.
Artists or people that give you inspiration?
"Everything! Love! I listen to anything from Etta James, Marvin Gaye and Bill withers to killswitch and hatebreed. Michael Jackson to Boot Camp Clik. I'll sit down one day reading Mumia and the next have a Stephen King novel in my hand."
"Man this list is too long so to name a few Big Pun, Mos Def, Kurt Cobain, STP, Silverchair, Jessie Reyez, Stevie Wonder, Boyz 2 Men, Jedi Mind Tricks, J.Cole, Khalid and I'll stop there Experience, struggle, and loss are my greatest inspirations as bleak as that sounds honestly.
Through the joys and pains of life one develops their identity and shapes their mind set. At least for me I can channel emotions from my past when creating certain songs to match or uplift the ambiance of whatever we are working on.", Lateb.
Anything else you want to share with our readers?
Lateb & Oblivious #WokeisComing dropping next week
Lateb & Oblivious - W.O.K.E.
A Jon Glass Production
Dropping Spring 2019
Follow us:
@ObliviousHipHop
@Latebthegod
Subscribe to our BRAND NEW YouTube Channel
W.O.K.E., Lateb & Oblivious are scheduled to guest on my live streaming show, "The Young Jurks", this Saturday at 7pm.
Photo courtesy of @trespassion