By Mike Crawford
The Mass Department of Health (DPH) has never been a friend to Massachusetts medical cannabis patients. From the start back in 2013, the DPH created regulations that effectively killed the state's medical cannabis caregiver program. Back then, Michael Malta, myself, and other patients staged a protest of DPH over just that.
Patients complained six years ago that taking caregivers away would give a monopoly to the state's medical cannabis dispensaries leading to high prices, poor quality, and less selection of product. In hindsight? We were absolutely right.
The DPH completely ignored us. Never responding to our requests for a meeting or even an email.
Since then, time and time again, DPH has ignored our requests for comment. No comment on removing the DPH enacted patient fee, a fee that the Cannabis Control Commission has just at long last recently waived. No comment on NETA's reported powdery mildew issue. No comment on the faulty DPH patient database that didn't protect patients in some instances from unlawful police raids.
Until today.
Meet Steve Smyth. He's the director of Massachusetts Department of Public Health's Safe Spaces for LGBTQ Youth Program.
Massachusetts Department of Public Health's Safe Spaces for LGBTQ Youth Program from a DPH release, "fosters collaborations with state and community agencies to maximize resources and help achieve program goals relative to the safety and support of LGBTQ youth throughout Massachusetts. Safe Spaces funds 10 programs known for their community-based focus on specific racial, cultural and class enclaves of the LGBTQ youth community, which include homeless LGBTQ youth and transgender youth programs."
Smyth had a lot to say today on the facebook page of a mutual friend. It was your typical facebook dust-up. The op (original poster) was thrilled that Mass Governor Charlie Baker had just banned sales of all vape product for the next four months citing public safety. I posted sentiments similar to what Mass Cannabis Control Commissioner Shaleen Title has been quoted, that the ban was likely to cause additional and far greater harm by pushing more patients and consumers to the illicit market where counterfeit vapes and bootlegs are a known danger.
Smyth wasn't haven't any of it.
Naturally I responded that most of us medical patients have little faith in the DPH based on the already cited past instances and that today many patients are disgusted by the high cost and low quality at Massachusetts medical cannabis dispensaries. So much so that most are either buying it on the illicit market or driving to purchase their meds in the state of Maine. Massachusetts medical dispensaries serve Budweiser like product at $375 an ounce. Compared to Maine which offers better prices, better selection and most importantly craft cannabis. How does Maine do it and Massachusetts is so lagging behind?
It's the thousands of licensed Maine medical cannabis caregivers. The caregivers that Mass DPH regulations banned. An action that pushed most patients to the illicit market. That's happening in Massachusetts where as in Maine? The market is truly legal.
Smyth like the DPH knows better.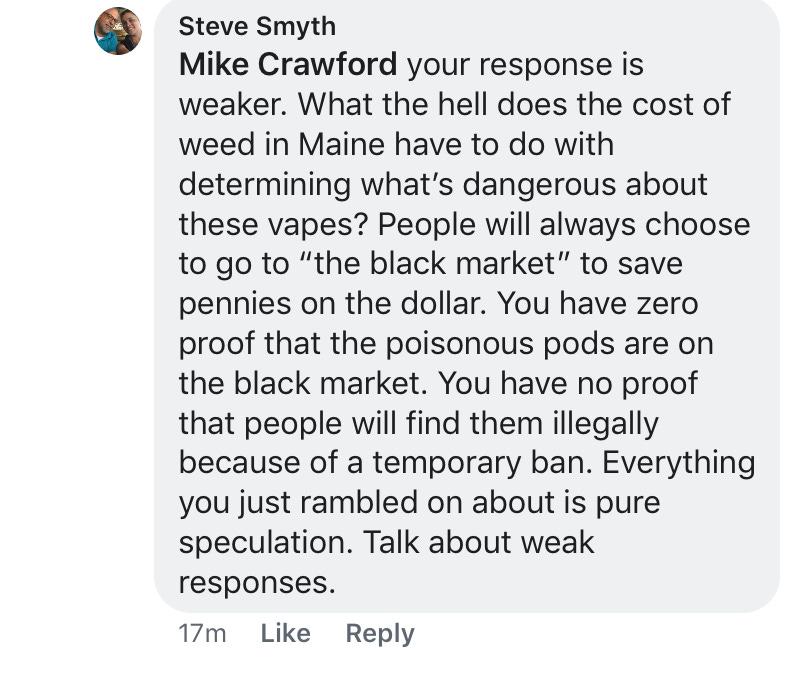 No proof? Here's the CDC that Governor Baker's DPH (that Steve works for) links to and they are warning of? Street bootleg vape sales.
"Anyone who uses an e-cigarette or vaping product should not buy these products (e.g., e-cigarette or vaping products with THC or CBD oils) off the street, and should not modify or add any substances to these products that are not intended by the manufacturer."
Boston Trees with 19,000+ members is the most popular Massachusetts based cannabis sub on reddit. A quick search of the sub reveals hundreds of posts about Mass medical cannabis patients traveling to the state of Maine for the craft medical cannabis at around half the price.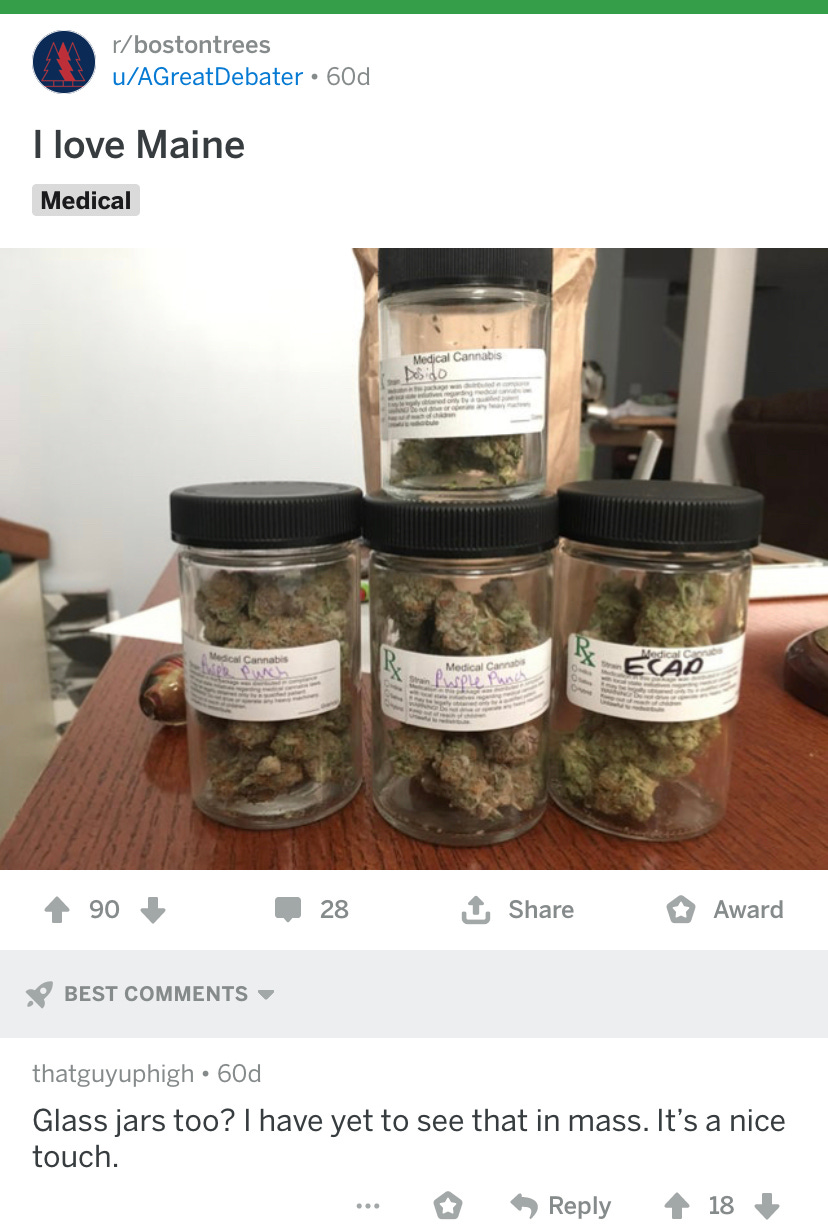 But we're not bright? The hundreds of patients choosing a better product at a lesser price?
Naomi Martin of the Boston Globe notes that lack of data coming from Massachusetts on the vape "crisis" while the state of Utah and FDA have been more forthcoming, pointing to the majority of cases being tied to thc vape cartridges laced with vitamin E.
Likely to be illicit thc cartridges. The cartridges that DPH pushed people to use by letting big cannabis monopolize the legal market which naturally pushed most to the much cheaper traditional way of scoring. A source with zero regulations.
You know which state doesn't have these issues? The state of Maine. The illicit market is crushed in Maine by thousands of legal caregivers.
Breaking: FDA tells House committee it has received 300 samples from vaping-related lung injury patients and tested 150 -- about 70 percent are THC products. Rest are nicotine or something else. About half are contaminated w vitamin E oil
Smyth then got really bothered, bullying me, attacking a publication I've written for along the way and then pretending I threatened him and other attacks of my character for simply asking questions, and telling him to "look me up" that his "comments were a public record."
The CDC released a long list of states with reports of vape related illnesses. Massachusetts is on that list.
Guess which New England state is not on that list?
If you guessed Maine, you are correct.
Listen to our podcast "Massachusetts bans e-cigarettes & cannabis vapes" for more info as well as advice for patients and consumers.