Threat to doctors and nurses, getting sick and or dying is very high at the moment
Interview with local health care worker on how the public can help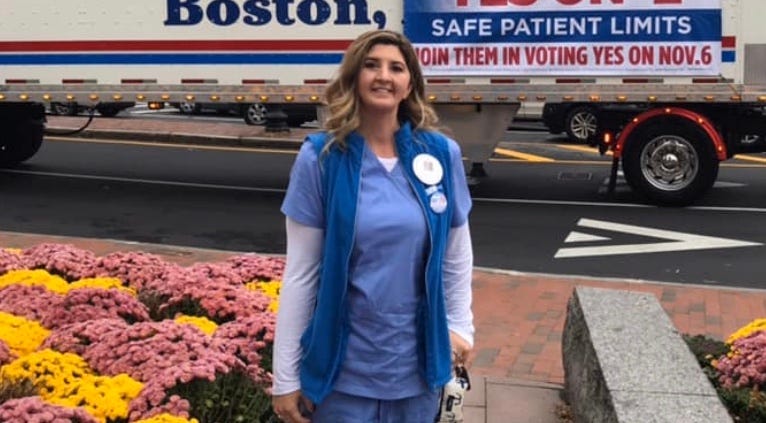 Follow @theyoungjurks & @mikecannboston on Twitter & join The Young Jurks Facebook group
Cheryl Nadolny has a bachelors degree of science in nursing, a background in infectious disease, wound care her specialty when she worked as a nurse at a local hospital, currently she is employed with a detox recovery outpatient group as a recovery, sobriety coach and serves as a secretary for a recovery group on the North Shore.
Nadlony tells me she's been in contact with the nursing Board for Massachusetts and that they are fast-tracking all recertifications of nurses re-entering the acute care setting with local hospitals, "If you are retired and your license is in good standing, so they can have a surplus of nurses to be called on in the event of a large number of patients overflowing the hospitals."
And that she herself is hoping "to work in the back-up nursing pool at Holy Family Hospital on the North Shore as part of the mobile testing team."
Why are you starting a drive to collect masks and other personal protective equipment?
"It became very clear to me as I was doing my online training the other day that the nurses and doctors will not have enough personal protective equipment (PPE) while battling a huge infectious disease outbreak. 
From my background as a charge nurse, we required a certain number of gowns, masks, gloves, and protective facial shields,hair guards for each infectious disease patient. Hospitals typically only have a small percentage of patients on infectious disease precautions, now we are predicting all of the patients coming in with COVID-19. From watching what has been going on in Italy and being in touch with a colleague over there I quickly realized that we are facing a huge protective equipment shortage.
Do you think the Federal and State government will be able to help?
"The government is promising us all that it's coming but probably not for another week or two due to manufacturing, shipping, inspection time, and the fact that the whole world is facing this crisis at the same time. Nurses are all asking local trade schools, businesses, beauty parlors, spas, nail salons, to consider donating what medical protective equipment they have to local hospitals or healthcare teams. I've started #operationPPE as a way to do that. 
People can personally message me on Facebook or email me at Cleo.4256@hotmail.com and I will set up a safe place and way to pick up your items, they can ship items to us or I can personally direct them to which facilities need protection equipment. I will be donating to all of the north shore hospitals that are in need, Melrose-Wakefield, Holy Family, Lahey, Winchester, Anna Jacques, Salem Hospital, and Beverly Hospital. If it's a donation for the south shore area or western MA I can make arrangements. Protective masks of all kinds are what's in highest need right now."
Who's been helping you?
"The Green Nurses group has been amazingly supportive and helpful in this effort as well. All of the Medical cannabis nurses have joined together during this crisis to do whatever we can to help and keep others educated and safe! We are a strong network and are a good support system for one another right now."
How critical is this?
"Nurses and doctors across this country are calling on the public to help us get through the next couple of weeks safely. We are being asked to go into one of the scariest battles without the right protection. Sending soldiers to war without proper boots, helmets or weapons. A message from a nurse in New York who was instructed to reuse her surgical mask throughout her entire 12 hour shift and spray it off with Lysol in between patients to help prevent spread of germs, she was also instructed to reuse her gown and spray it off with disinfectant between patients. She's one of hundreds of stories that I've read about just like this over the past few days.
I have many loved ones in my family who work in emergency and critical care settings. The threat to doctors and nurses, getting sick and or dying is very high at the moment. So we need all the help we can get."
What about those reading this in other parts of the country or world, how can they help?
"You can also help no matter where you are by contacting your closest hospital and ask what they need for donations and they will give you instructions on how to safely donate items to minimize risk of infection to yourself or others. 
Every hospital I have volunteered with the last few days has a strong plan in place to treat the sick and is maintaining a strong positive, hopeful spirit. Together I pray we all make it through."
To donate, PPE gear, email Cheryl at Cleo.4256@hotmail.com
Lowell Makes members are also currently working on several initiatives to produce PPE, including a collaboration with nursing staff to 3D print protective masks.
News Links:
Forced off campus, students scramble for shelter in merciless market
Rideshares are also ambulances, yes even during coronavirus
Massachusetts COVID19 decarceration bill could protect us all
Status Report: The Multiplexes. 3/19/20 - "Reports online suggest that AMC will not be paying most of its theater staff during the shutdown, and at least one petition is circulating asking the corporation to rec.
Our round table of local Massachusetts cannabis applicants and growers, Ed DeSousa, Sean Berte, Averyl Andrade, Chauncy Spencer, and Mike Brais giving advice on how to start growing your own legal cannabis.  
The Young Jurks podcast, COVID-19 changes everything, we announce changes on our live show and how our supporters can help. Also discuss 3D printed medical masks for our front line medical workers, DigBoston, MidnightMass, and take a call from a local who was trapped in Spain and is now at home under quarantine.