The Young Jurks hit local beat, Peabody, Newburyport, Cambridge, Revere, and Malden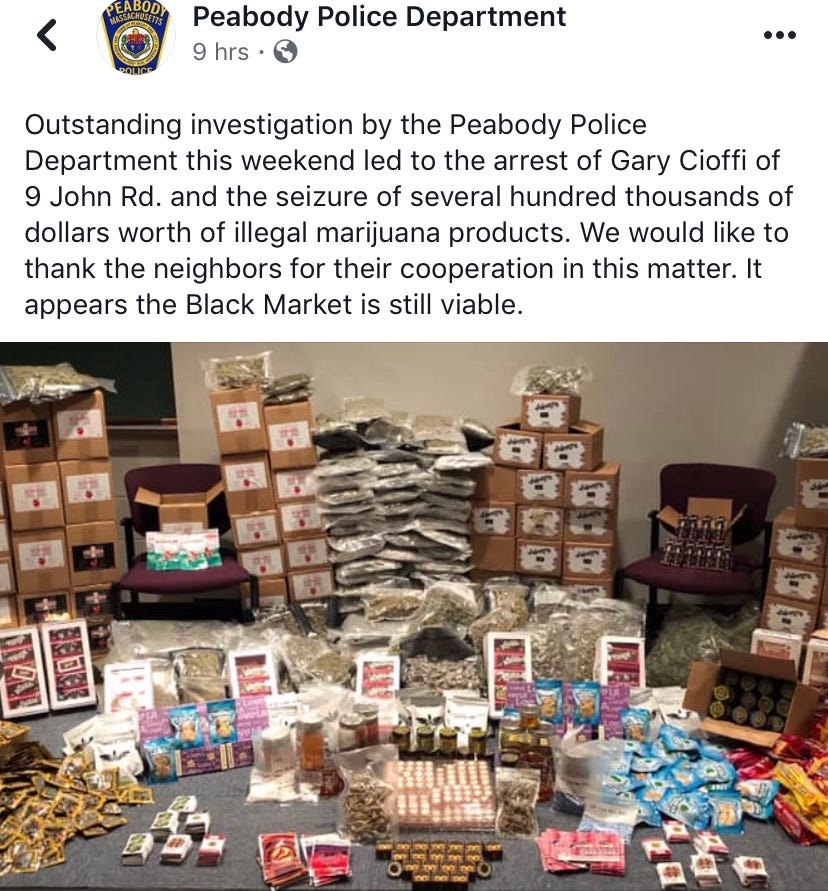 The Peabody Police Department are receiving pounds of unflattering Facebook comments in response to their post about a recent bust of an illicit cannabis operator. Which is justly deserved as they backed a retail ban on the sales of cannabis products in their city. The post reads partially, "It appears the Black Market is still viable". Which is exactly what they lobbied for! Congrats boys.
Unfortunately who doesn't seem to be getting the same public outcry are the Mayor and City Council who made Peabody one of a few cities in eastern mass to make that move to ban adult cannabis sales.
When it came to protect patients, consumers and children in Peabody, city councilors like Jon Turco chose to protect illegal dealers who are operating in every neighborhood of the city. Turco and the rest of the city council who voted to ban legal, regulated adult cannabis shops in Peabody, handed all of that adult market to non regulated operators which as a by-product tends to create teen dealers and teen distribution networks. Which doesn't happen nearly as often if it's legally sold to adults.
After a big money dispensary filed a lawsuit against the city of Cambridge, members of our The Young Jurks Facebook group have been asking that we call for a protest/boycott. The dispensary is upset that the city is giving economic empowerment applicants a two year head-start on the adult market over already operating medical dispensaries. We feel like this situation needs to be led by more than just us, so we have been in contact with other vested community members, who are currently exploring options for a formal and coordinated response. For updates on our plans, join The Young Jurks Facebook group.
On Sunday, The Young Jurks hosted a live facebook/twitter stream with Revere City Council candidate, Dimple Rana discussing housing, education, childcare, transportation, cannabis, and more.
Vote No on Newburyport cannabis ban!
The Young Jurks also interviewed Sierra Gitlin of Newburyport Cannabis Action Network on the campaign and November 5th vote to stop a ban of cannabis shops in the city. http://Newburyportcan.org for more info.
On Sunday, Oct. 27th at 5pm, The Young Jurks will interview Boston City Council candidate, Julia Mejia and Malden City Council candidate, Amanda Linehan. Watch live on our twitter or Facebook.