Cannabis micro-grow applicants demand changes
"Tired of being placed on the back burner, while our funds are being bled dry"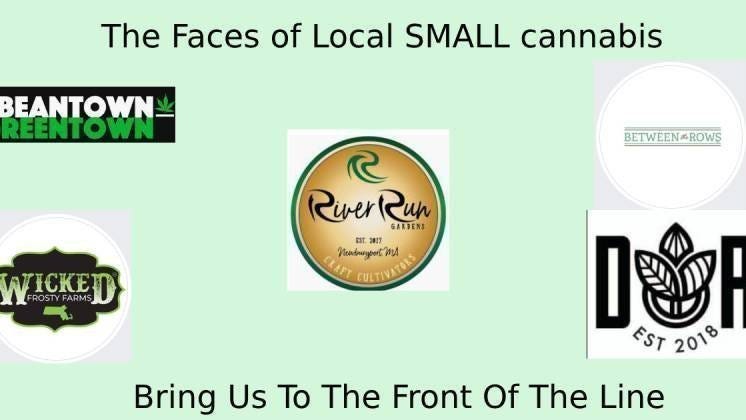 Subscribing helps us deliver more local content, please be a hero, subscribe!
Local micro-grow applicants and their supporters, fed-up with the Cannabis Control Commission's application process and newly proposed delivery regulations are organizing a State House rally on Wednesday, May 8th as well as an online petition.
From their facebook event:
"Small Local Micro Business has been left out of the Massachusetts cannabis industry.  We are gathering to show those in power that we will not remain silent. Licenses have only been awarded to business with capital outside the reach of the little guy. Show support for the industry YOU want in Massachusetts and let the little guy deliver the product you have been waiting for."
We interviewed five supporters of the rally on why they are disappointed with the CCC and what changes they are petitioning for.
Why are you supporting this rally and petition?
Andrew Mutty of Beantown Greentown, a micro grow applicant in the city of Lowell, "Because no micro/local businesses have been given licenses yet. The people need to get together and let our voices be heard."
Mike Brais, micro-grow applicant with Deep Roots, Inc., "We checked off all the boxes, but we don't have 50 million dollars sitting in the bank like some of the competition."
"Not only are micro businesses a critical spoke on the cannabis wheel but an amazing opportunity for people who have been disproportionately affected by the war on cannabis to enter into this lucrative new industry, and that is why I will be at the State House in support of micro business.", Averyl Andrade, micro-grow applicant with Between the Rows, LLC in the town of Westport.
Ed DeSousa of RiverRun Gardens, "Our community has been driven to a point where we need to step up our fight.  The people accepted the fact that 4 out of 5 appointed Cannabis Control Commissioners voted no on Question 4.
We sat back and allowed the commission to license previous medical marijuana companies into the recreational field.
It stops now!  The people, the community has had enough."
DeSousa reminds us, "When Question 4 was drafted, it was written in a way that would include small local people to get into the cannabis market.  In fact, a set of licenses were created for the small timers, named the micro business license. Look around, do you see any micro business licenses being issued?  No!
Instead, you have the same big businesses getting licensed every time the commission gets together..
Currently there is a huge backlog for license applications and we small guys and gals are being drained from everything we have in order to wait our turn.  Now you may ask yourself, why would it take us so long to apply in the first place? Well, the answer is simple. We don't buy our way. Look at the recent article that came out from the Globe team. Cronyism at its finest is slowly killing any chance of the small entrepreneur.    
We worked with our towns, we created zoning, we paid rent on empty buildings, lawyers."
DeSousa concludes, "We have followed all the rules set up by the Cannabis Control Commission, but in the end, we are placed on the back burner, while our funds are being bled dry.  It stops now!".
What are your recommendations to the Cannabis Control Commission?
DeSousa challenges the Commission, "The Cannabis Control Commission made the rules, but they say it will take a measure by the legislature to change them.  Well, reps, listen up.... Look out your window and see the people. We voted for inclusion of local small business, we want inclusion of local small business. We want micro businesses pushed ahead of the line for licensing. We want equity applicants to get licensed. We want patients to have affordable access to the medicine they need.  We want Big Marijuana out of our state! If the Cannabis Control Commission is unable to do these things, Then advocate for us. They have that power, let's see if they use their stage to be part of the will of the people."
DeSousa continues, "This isn't about me or RiverRun Gardens, this is about you and all the other businesses that worked their tail off trying to get into this industry.  This is about our spouses, who have put up with barely making mortgage, going without and eating ramen night after night. This is about our children who wonder why mom and dad are always working and why they can't have what their friends have because their parents are paying for empty warehouses.  This is for the average consumer who wonders why the state wants them to go to big marijuana for subpar quality when the grey market offers premium cannabis for far lower costs."
Grant Smith, Massachusetts Patients for Home Delivery, "I would like to see the CCC do two things; firstly, I would like the CCC to create a fast track for reviewing licenses for micro-businesses (cultivators and manufacturers) as, currently, those services are being forced, even with local approval in place, to pay thousands of dollars per month to secure warehouse space while awaiting final approval for the CCC."
Smith adds, "Some of those small local companies have already paid upwards of $30,000 simply to hold the lease on their warehouse over the past 6 months while awaiting final approval from the CCC. Forcing those companies to continue paying such costs is entirely unreasonable and the CCC should be doing everything it can to create a fast track for local applicants seeking such licenses."
Smith also wants "The CCC (to) include stand alone delivery licenses in their final draft guidelines before they vote on those proposals in June. Currently, the proposed format for delivery services would only allow such services to deliver product from an already existing dispensary, and the CCC would review the potential for stand alone licenses in the fall of 2019."
Smith finishes, "While I understand that such a piecemeal approach has its advantages both politically and otherwise (and while I very much applaud the work of Commissioner Title as to ensuring a 24 month exclusivity period for economic empowerment and social equity applicants for such licenses), I worry that standalone licenses will be voted down in the fall. Were that to occur, a permanent model which mandates delivery companies provide only products from retail dispensaries would fundamentally undermine the ability of smaller companies to exist on a level playing field with the owners of such establishments. In no way, shape, or form should the regulations have the effect of giving any sector of the market a monopoly, and forcing delivery companies to only deliver product from retail dispensaries may well result in just such a scenario."
Andrade of Between the Rows, "Priority status to local micro businesses. Additionally we want the CCC's Social Equity Vendors to begin truly supporting local cannabis by extending their reach outside of the Boston area to the entire state of Massachusetts.
Smaller organizations should not have to complete with big (out of state) cannabis!"
Andrade continues, "Between The Rows LLC is a small business comprised of three local farmers struggling to provide our community with healthy produce. We feel farmers should be given the opportunity to supplement their income through cannabis but with the national average small farm income being -$1548 excessive fees, lack of support from the CCC and dirty tactics from out of state big money hinder our progress."
Mutty of Beantown Greentown, "There should be some support from the CCC based on micro licensing priorities. We are just looking for a little help to get through the system so we don't waste money and ultimately fail due to systematic slow down."
Why haven't micro applicants been approved?
Mutty offers, "A number of reasons small micro businesses haven't been approved. It's very difficult to find a operational space without spending tons of cash and funding a micro business is not a "micro" amount of money. And finally we also believe that big business and big influence is taking a strong front line and getting through quicker. Why and how we don't know but we can speculate." .
Brais of Deep Roots has an idea on the why, "When local growers are licensed, the big guys won't be able to compete with our quality and attention to detail."
Anything else you think citizens should be aware of?
Smith of MPHD cautions, "There are a lot of stakeholders who attempt to influence the way in which regulations are written within the Massachusetts cannabis industry, and some of those players have access to a substantial amount of capital and political resources. In order for regular citizens (without such connections or monetary resources) to be able to participate in our democracy, we all have to pay close attention to what is being said and proposed by our lawmakers and regulators. In that way, the most important thing about rallies like this one occurring at the Statehouse, are crucial to protecting the integrity of this Republic and the fairness of the cannabis marketplace in our Commonwealth.".
DeSousa closes by questioning the Commission's priorities, "The CCC has time to work with a new task force focused on the underground market, yet no time to license applicants?  Don't we already have local and state police task forces? Don't we already have a DEA? Where are these funds coming from?  Does this make sense? The answer is simple. An underground market exists because Big Marijuana only cares about jacking up the prices for subpar product."

You can listen to The Young Jurks at anchor.fm/theyoungjurks or wherever else podcasts are streamed.